Such is the broad scope of fEC, the management structure for its implementation has brought together academics and administrative staff in a number of working groups from across the University.
Current Structure
Planning and Resources Committee
RAM/TRAC Group
At their meeting on 21 March 2012 the RMC approved a revised constitution and terms of reference for the Group to give it oversight of the Time Allocation Survey (TAS) and Transparent Approach to Costing (TRAC) processes in addition to the RAM.
The Group is supported by the Planning & Resource Allocation Office.
Previous Groups
Planning and Resources Committee
TRAC Teaching Steering Group
Officers Group TRAC Teaching and fEC Research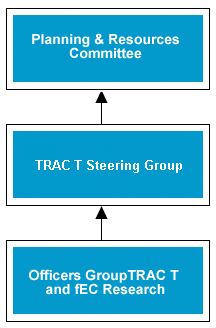 Please see information on the Previous Group Structure web page