Project Milestones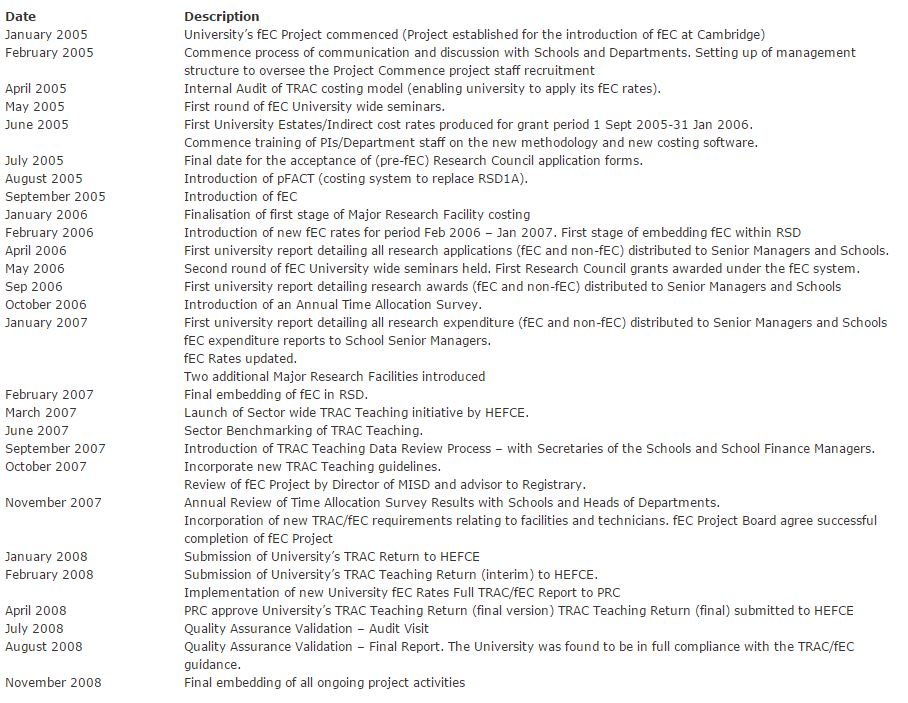 Communication to Internal University Groups
A comprehensive programme covering a range of outputs was put into operation to communicate the introduction of fEC across the University. The programme has included university wide seminars and presentations, comprehensive training programme , a range of meetings with different groups, report submissions to various university committees, a comprehensive training programme and a dedicated website . A robust Project management structure was also introduced to ensure the deliver of the requirements of fEC Research and TRAC Teaching. A process for communication with participants in the Time Allocation Survey has also been included.
Management Structure
A broad management structure was introduced which included a Project Board, Steering Groups, and Sub-Groups. The Groups were comprised of a wide-ranging array of academic and administrative staff drawn from various levels across the University.
Meetings
School Finance Managers, Secretaries of the Schools, RSD, Heads of Department/Faculty
Reports
Regular reports to the University's Research Policy Committee (throughout 2005 & 2006), Resource Management Committee, and Planning and Resource Committee.
Data reports on research project activity to Schools and Senior Management, including:
fEC Applications Reports: from April 2006.
fEC Summary Award Reports: from April 2006.
Detailed Award Reports (fEC and non-fEC activity): commenced Sep 2006.
Research Activity Expenditure Reports (fEC and non-fEC activity): from Jan 2007.
Seminars & presentations
University wide seminars and presentations were held to help facilitate the communication of fEC, and to maximise the opportunities for everyone to learn about fEC. Seminars have been held at a number of locations across the University reaching a range of audiences.
Web Site – a website was introduced in order to:
Provide for two-way interactive communication on fEC activities.
Keep members of the University informed of the fEC initiative and its progress.
Provide news items and new information on its release.
Detailed Training on Research Applications & pFACT Software
Detailed training on the submission of research applications under fEC and use of the pFACT costing software was provided by the project from 2005-2006 to a range of staff including PIs, Co PIs and Departmental Administrators.
Time Allocation Survey
More information can be found on the Time Allocation Survey web page